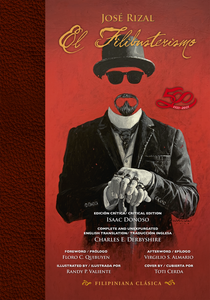 Filipiniana Books
El Filibusterismo
Regular price
₱2,200.00
₱0.00
Unit price
per
This bilingual quincentennial edition under the Foundation's Filipiniana Clasica imprint is annotated by scholar Isaac Donoso, with an Introduction by Floro Quibuyen and Afterword by National Artist for Literature Virgilio Almario. The striking cover design by artist Toti Cerda adds a contemporary spin to the novel, foregrounding the more sinister aspect of its protagonist Simoun.  
This edition is a faithful reproduction of the edición príncipe published in Ghent in 1891 and includes a comparative annotation of Rizal's corrections, emendations as well as deletions from the original manuscript and the final printed text, making this the first-ever critical edition. With this volume, Rizal's textual versions are recovered through a modern philological parsing, which spans 3,065 explanatory notes, thus unlocking the novel's many enigmas for a new generation of readers.
The original Spanish text has been printed in parallel with Charles Derbyshire's classic English translation. The textual lines of the novel have been consecutively numbered to serve as a tool for scholars in establishing a definitive concordance. This collector's edition also contains the novel's extensive bibliography, tracing the history of its manifold translations and editions. Floro Quibuyen's foreword sheds new light on the radical Rizal as well as the novel's final conundrum, while National Artist for Literature Virgilio Almario examines Rizal's work as the ultimate in-joke much heavily influenced by French and German enlightenment thought. Isaac Donoso's introduction places the book in its historical, linguistic, and literary contexts even as he highlights the philosophical dilemmas that haunted Dumas to Dostoevsky as reflected in the novels' protagonist Ibarra who is dramatically transformed into Simoun. Isaac Donoso's edition of El Filibusterismo and his companion critical edition of Noli me tangere serve as the definitive editions of these two foundational novels that launched an entire nation into being.
---